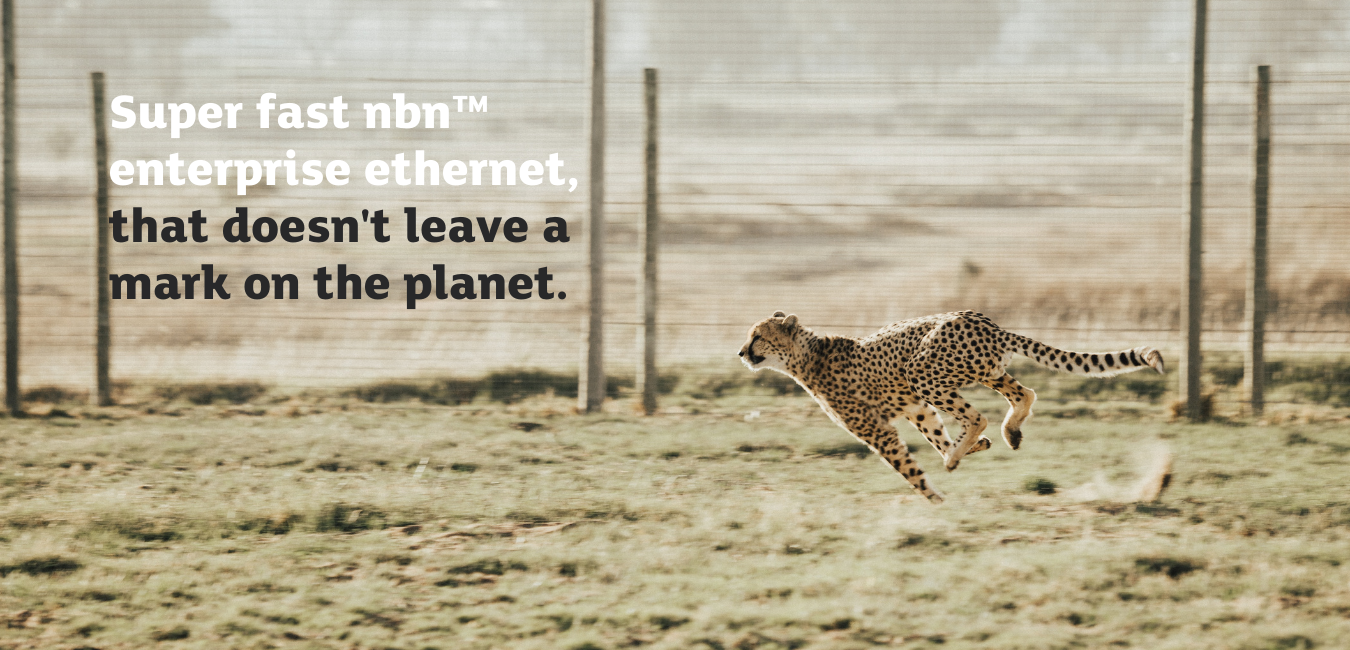 Super fast nbn™ Enterprise Ethernet by Goodtel that is good for your business, the planet and those in need.
nbn™ Enterprise Ethernet can provide your business with affordable, superfast internet over a dedicated fibre network—meaning it never slows down, even during peak periods.

Enjoy symmetric speeds from 10Mbps to close to 1Gbps, with an internet connection that is built for organisations which depend on data intensive business applications. Fibre optics is the fastest and most reliable way to power your Cloud services, IP phone systems, voice, video and any other end-user internet services. Meaning you can focus on what's important.

nbn™ Enterprise Ethernet is perfect for organisations that cannot afford the downtime. It's available to more than 1.5 million Australian businesses with no nbn™ up-front build costs for an estimated 90% of business locations within the nbn™ network footprint.

High performance internet up to 1000/1000Mbps
nbn™ Enterprise Ethernet is the solution for businesses that rely on data intensive applications. We understand your business can not afford downtime. With nbn™ Enterprise Ethernet your connectivity will not be compromised during peak hours and can handle multiple applications at the same time.
With symmetric speeds from 10Mbps to 1000/1000Mbps, our nbn™ Enterprise Ethernet has the capability to scale your business as fast as you need to.
Speak to our team
Grow your business with technology
With communication technology advancing, future proofing your business with a network that supports your business applications has never been as important.
Thanks to the robust fibre nbn™ network, you can help to secure your business now and into the future with technology that allows you to scale with extra fast broadband. Fibre optics is leading in technology to power your IP phone systems, cloud services, emails, large file exchange, voice and video conferencing. And with more business applications advancing the way we work every day, your business connectivity needs to be fast and adaptable with a nbn™ Enterprise Ethernet.

Book a call
Internet direct to your door with $0 install cost*
If your business is within nbn™'s fixed-line footprint you will be eligible to get nbn™ Enterprise Ethernet connected directly to your business. This will give your business incredibly fast network speeds to support your network services and other data-intensive applications that keeps your business moving.

Eligible businesses can also benefit from $0 fibre install for nbn™ Enterprise Ethernet a 36 month contract (subject to site qualification).







Check if your business is eligible for $0 install cost

PLUS 3 month's worth of free nbn™ Enterprise Ethernet
Complete this form and one of our team will get back to you within 4 business hours.
Supporting you and your business
We understand you just want your telco to work and our team has over 30 years experience in making that happen.

Our team is on hand 7 days a week to provide you with dedicated support for whenever your business needs it.

Talk to us
Good by name, good by nature
Get the feel good factor each time you pay your Goodtel ethernet bill with 50% of the profits from your service going back to good causes that help protect the planet and those in need.
Choose to reduce your business' carbon footprint, support disadvantaged children or fund vital cancer research, at no extra cost to you. It's a bill you pay anyway so why not let it make a difference and support a cause you and your team care about.